Sustainability Policy
OpenUK's sustainability strategy is focussed on supporting government, business and education to adopt open principles and open technology as key tools to facilitate change towards the prosperity of all people and the planet.
We believe that open technology – including open data, open source software and open hardware – are fundamental to the enablement of:
The transparency required across government and business to measure, monitor and communicate progress towards the Sustainable Development Goals
The cross-sector collaboration and sharing required to deliver solutions across the Sustainable Development Goals
The creation of collective equity for innovators to rapidly build solutions across the Sustainable Development Goals
The education of young people as they look to build and develop their skills in technology and sustainable innovation
The dematerialisation and decarbonisation of IT infrastructure, including Data Centres and their supply chains
OpenUK operates as a remote-first organisation in the tradition of open source and as a consequence lowers our impact on the environment and creates work opportunities that are accessible independent of geographic location.
We will:
Promote responsibility for the environment within the organisation and communicate and implement this policy at all levels within the workforce;
Embed Sustainability in all aspects of our work with businesses, education and government;
Comply with all relevant environmental legislation/regulation;
Not prioritise funding needs ahead of sustainability requirements; and
Identify and provide appropriate training, advice and information for staff and encourage them to develop new ideas and initiatives.
Specific Actions:
We prioritise the wellbeing of our staff with staff-defined flexible working arrangements in terms of working hours and work locations;
We encourage the use of digital infrastructure to reduce physical travel to internal and external meetings, whilst acknowledging the benefits of appropriate in person meetings;
When meeting physically, we prioritise the use of non-motorised transportation, and when not possible, only reimburse public and shared ground transportation when these are conducive towards reaching a destination within 6 hours;
When catering events, we seek to use minimum packaging and waste and always offer an equal number of plant-based meal options;
We avoid the use of paper whenever possible. O ur documentation, transactional and communications infrastructure is digital first;
We have introduced the role of Chief Sustainability Officer in order to embed sustainable practices across the organisation and in our external work;
We have introduced sustainability concepts into our Kids Coding Programme and Competition;
We have created a global consortium to create a blueprint for the carbon negative data centre of the future; and
We have introduced sustainable practices as an Award Category in our annual business and technology awards.
This strategy and action plan is available to all staff and external advisors, and has been drawn to their attention.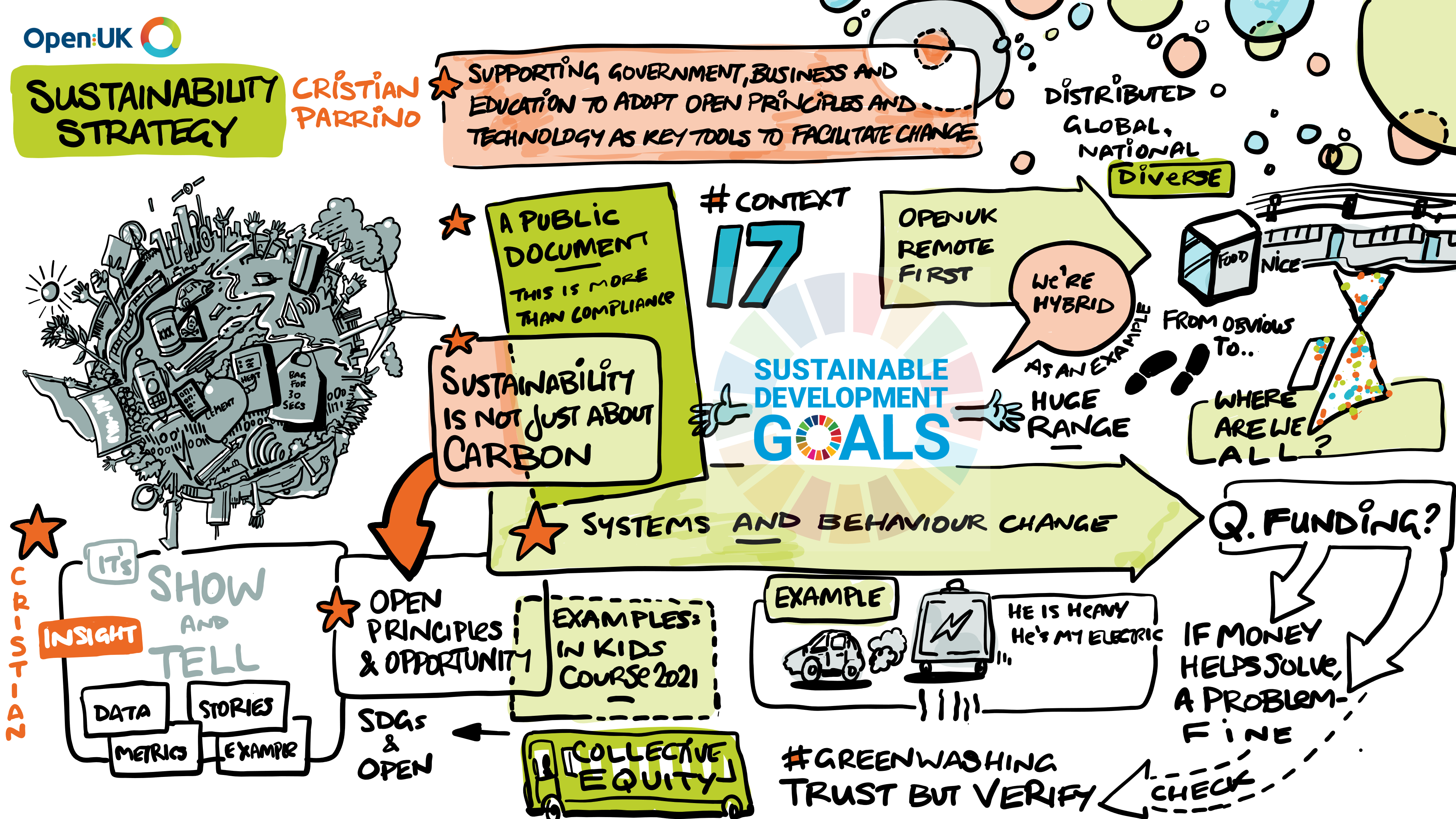 © OpenUK 2021, CCBYSA openuk.uk